I have turned into a massive Kool Aid Junkie. I search every place I go to see what new flavors I might find. I scour the shelves for more and more packages. I scared the nice checkout lady at Meijer's when I bought 20 packs all at once. Do I want all this Kool Aid to drink? No way. I need it to dye more yarn!! Yarn that I have no idea what I'm going to make with it. Yarn that may never move beyond it's neatly wound center pull ball. But still, I need to dye more yarn.
Monday, I went on a massive Kool Aid hunt. I searched Target (which does not carry Kool Aid by the way), Meijer (the mecca of Kool Aid flavors), Walgreens (another non-Kool Aid market), and another Kroger store (which had only the basic flavors). Meijer is by far the Kool-Aid Hook up. They had an entire display of Kool Aid with flavors I had seen no where else (although the most wonderful Pina Pineapple was missing). I finally found some blue flavors--Berry Blue and Blue Raspberry Lemonade--as well as some more interesting ones--Maderine Tangerine, Soarin' Strawberry Lemonade, and Watermelon Cherry. They also had some Lemon Lime, Cherry, Orange, Grape, Strawberry, and the ever popular Tropical Punch along with some unhelpful "invisible" flavors (clear drinks with fruity flavors--not good for dyeing yarn).
I made a trip to the new Wal-Mart Neighborhood Market last night since I needed to get some milk and looked at their Kool Aid selection, but they didn't have much variety. I'm hoping that if I pay a visit to the Meijer out in Hamburg they might have more fun flavors for me to play with.
I haven't yet had the chance to try out the new flavors I found. I'm planning to give it a try on Saturday so we'll see how it goes. I may not get to take pictures, though, since I don't have a digital camera here. Oh well.....
Now to wrap up some unfinished business.
1.) The Amazing Race Wrap up.....
Really, after the double episode, I found myself totally bored with the whole thing. I watched until the end, I really did, but I just didn't care anymore. In the end, it was the Boobs that won it all. The Beauty Queens (Dustin and Kandice) took second with Charla and Mirna coming in third. Maybe it was the utter lack of teams I cared about that made me not care. Danny and Oswald did make it to the final four, but after they were Philliminated I had no one to cheer for.
2.) My Bracket Wrap up.....
I didn't win the pool. I didn't even come close despite the fact that I picked Florida to win it all (again!). I just missed too many games in the second weekend to overcome. Oh well, maybe next year UK will stick around for more than two games. Hear that Billy G? We want more than just a one weekend engagement next year in March.
3.) 3K / 5K Racing...
The 3K I ran back on St. Patrick's Day (yes, that long ago) went well. I finished with an official time of
18:41
and placed 6th in my age category. And, most importantly, I ran the entire thing without freezing to death! I've been running pretty steadily since and I can now do about 3.5 miles at a time so I'm ready to tackle a 5K. First up is the Fancy Farm Picnic Run on August 3rd and then Sarah (from work) and I are going to do the Midsummer Night's Run on August 11th. Hopefully both will go well. Hopefully I won't die.
4.) That Stupid Committee update....
I just had to get this most lovely pic of Kyle up here one more time since the Committee that had no end finally ended!! We hired the most wonderful Associate Pastor ever Diane Baldwin back in the spring and she officially started the Sunday after Easter. We couldn't be happier with our choice! And I'm glad to finally be done with that committee, although Kyle wants to make me an elder this fall and so I'll have to serve on Session. Just say No Kimmy, just say No.
5.) Scopeman update....
Really, here there is nothing to update. Haven't seen him much this year so far. He stopped by once in February just as I was getting ready to go to the gym and we chatted for a second, and then I saw him the other day, but he paid very little attention to me. Apparently we can talk once a year at the Christmas party and that's that. Oh well.
6.) Knitting WIPS Updates....
The
Aunt Purl's Magic Scarf
is still not done. In fact, I haven't even picked it up in months. I need to get back to work on it, but really, I just don't want to, although I do need those needles back. I have started yet another project, however. I am making a lap robe using the very fun Feather and Fan pattern. I started it to send as a Mother's Day gift to my Grandmother, but got about 1 1/2 skeins in (out of 5) and quit. I still pick it up every once in awhile, but it may or may not be done by Christmas.
My newest knitting obsession is Baby Stuff!! since everyone I know is Pregnant. It almost makes me scared to drink the water. So far I have finished two very adorable baby hats for my cousin Logan's little boy-to-be due the first part of July.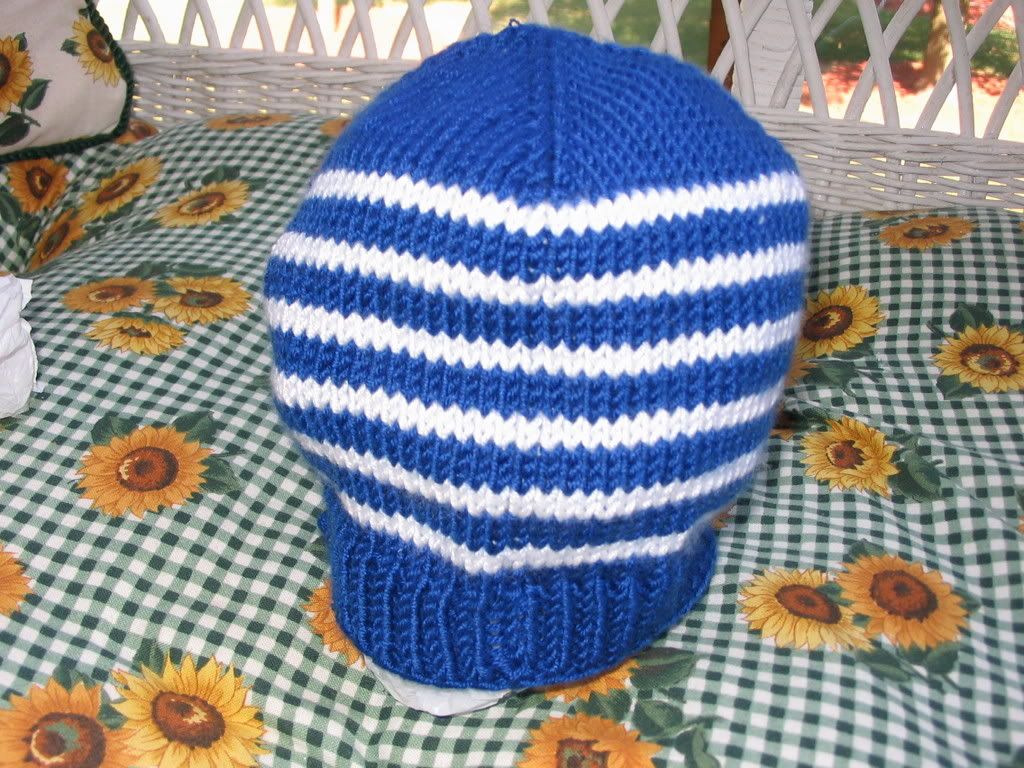 This one is done in UK blue and white (since it's never to early to be a wildcat fan) Lion Brand Microspun from the
Karlchen
pattern I found for free using
Crafster
. It's knit from the crown down (which is cool) and very easy. I used some size 7 DPNs for the whole thing rather than switch to circs half way through and I like the way it turned out. The Stripes are a simple 2 row white/3 rows blue pattern (although if I had it to do over again, I would make them thicker).
And this one is the hopelessly cute Umbilical Cord hat from Stitch N' Bitch done in a sort of Electric Blue Sugar and Cream yarn. (I refuse to put babies in nothing but pastels.)For this one, I used my size 7 16" circs until it got too small and then switched to DPNs. The I-cord is wider than it should be (8 stitches instead of 4) since I apparently can't read a pattern all that well, but it is cute none the less. I can see more of these on the way.
I also picked up the book
Mason-Dixon Knitting
from the Library in order to see the Log Cabin Blanket pattern (which I was going to make for another Baby that is one the way). I discovered, however, that there are many, many fun patterns in there and I may have to go buy the book so I have my own copy forever. I have made the Ball Band Dishrag and the Baby Genius Burp Cloth so far both out of Sugar and Cream Cotton Yarn with size 7 straight needles. The dish cloth I have a photo of, the Burp Cloth I just finished last night, so no pictures for you. Notice, I had not yet woven in the ends. Now, however, they are tucked safely away. I need to use it and wash it to see how it holds up before I go crazy and make more, but I want to make tons and tons of these. It was so simple and quick!! And I like quick.
My next project will be the Bibs from Mason Dixon and then, hopefully, the Modern Baby Blanket. I just need to do a few test swatches to make sure I can handle the Log Cabin style of knitting before I jump into that one.
7.) Last but not least, my TV Wrap Up....
Now that summer is here and good TV has gone away until fall, I am longing for the days when I at least had something good to watch on Thursday nights.
Ugly Betty
ended very sadly with the possible death of Santos, Henry flying off to be with Charlie who he thinks is pregnant with his baby, but may be pregnant with the crazy dentist's baby instead, and Amanda and the Scottish lady locked in the "Love Dungeon" finding out that Amanda is actually Faye's daughter. Oh whatever will I do until Fall?
Supernatural
ended well. No huge cliff hanger this year. The Yellow Eyed Demon is dead, shot by Dean with the last bullet from the Super Special Colt that doesn't always kill everything after a recently released from Hell Daddy Winchester distracted the YED for just a moment. Dean, however, has only one year to live after he traded his life to bring Sam back from the dead, so I'm assuming that will be the crux of next year's plot lines. The CW is showing reruns on both Thursday nights and Sunday night now, so they will get through the entire season before the new season starts (and I have something to watch anyway).
8.) I know, I said TV was the last thing, but I thought of something else....
The little sister is in Italy right now supposedly studying Italian. Check out her
blog
for more details, but I get the impression she is studying food, wine, and boys more than the language.....